In today's article, let's look at the marauder!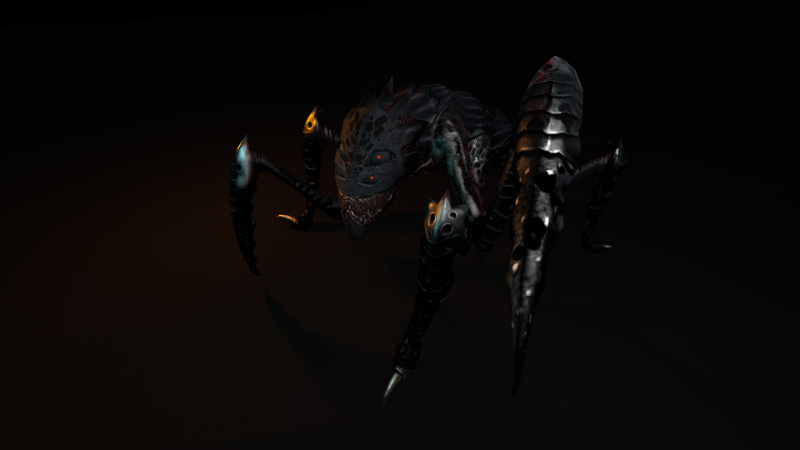 After months of hard work, the marauder model has finally been finished. It is our latest player model to be completed, and with the work of several other artists either in progress or reaching completion, it is far from the last. In fact, over the coming months you can expect several more model updates to the game as we get around to animating the new models. With regards to the marauder itself, it has already been rigged and is currently undergoing the animation process. You can expect to see it soon, as it will be added to one of our upcoming releases the moment it's ready.
As the central alien, the marauder displays a blend of insectoid and reptilian characteristics. Its posture and the style of its limbs more closely resemble that of the dretch and basilisk, while the exposed fleshy portions are closer to the dragoon and tyrant. The head itself displays both of these styles, with the facial plate looking similar to that of its immediate predecessor, while the jaw is more draconic in appearance. Attacks are made with both the front limbs and the mouth, the latter being studded with numerous sharp teeth.
You can expect the marauder to have quite an array of animations. In addition to the standard walking, jumping, attacking, taunting, dying, and hurting, recall that the marauder is also the alien that zaps things, and as a result will have a nice animation for that. We'll also be working on the first-person animations when those arms for the model are ready. The animation is being done by gavlig, who as you may recall has done the majority of our animation work. As for the marauder itself, it has been done by Osiris on concept art by Khaos. At the moment, Osiris is starting to work on the dragoon, likewise concepted by Khaos. Once that model is ready, expect a weekly article on it. Until then, enjoy the marauder!