Download it! Read on for what's new.
Updates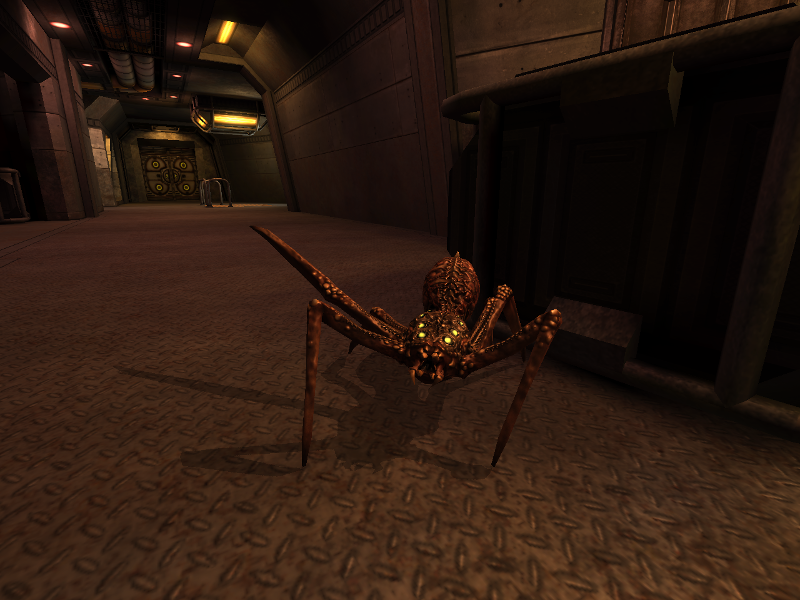 Shadows!
A long-awaited feature, we now have preliminary shadows on the GL3 renderer. Formerly, we only had blob shadows, which looked quite terrible and didn't exactly go nicely with our new models. With this release, we finally have projection shadows based off shadow maps. They're still in an early stage, but you're free to experiment with them. Use the cg_buildableShadows and cg_playerShadows cvars to turn them on for buildings and players, respectively. The cg_shadows cvar will adjust the quality, with 1 being the old blob shadows and 2 to 6 being the new ones. You can expect some initial weirdness as we work out bugs, but that's where you come in. Test it out and post shots on our forums so we can make sure we get everything ironed out!
Map updates!
Both Plat23 and Thunder have been improved for the tournament. To make it perform better, Thunder's fog has been replaced with color grading. As for Plat23, it has more detail than before, and the specular maps have been toned down somewhat so that it doesn't interact so strongly with our bloom. You can also jump off the railings at the center of the map, but you'll die. This is probably not a good idea.
Unvstats!
Now we're debuting our first Unvstats release, which is based off the old Tremstats you might be familiar with. More features will be added to it over the coming weeks and months, including achievements and stats for our newly launched EU server, but at the moment you can already see some of the improvements we've made. For one, it's much more attractive to look at, with quite a bit of web design done to it, not to mention better organization. There's also a skill algorithm you can use to see how you stack up against other players. The graphs are all in SVG, too.
Universal zip!
With this release, we now have a universal zip available. Instead of installing, you simply run the appropriate binary, and that's that. This should vastly simplify things for people on our three supported platforms, assuming you don't like to use the installer. It has binaries for Windows, Mac, and Linux. Also, in the case you like installers, we will have the generic Linux installer available again this release. Just wait a day or two and it'll be up.
NetRadiant packages!
For our mappers, we now have a new NetRadiant build with updates for Unvanquished, as well as a gamepack to use with NetRadiant. Support has been added for the WebP image format, as well as our new entities. Of course, you'll actually have to know how to use Radiant-based map editors to make usage of it. The packages can be found in this forum thread.
Bot improvements!
As always, we have some new updates to bot behavior for this release, based on player feedback and our own observations. We've fixed bot reactions to being attacked, and have made changes to the navmeshes they use for navigation. Bots will walk to regain stamina if they're human. They will also be forced to stay on the navmesh at all times, which should prevent them from getting into silly situations.
Translation updates!
We now have an entirely new language, Galician, which is spoken in the autonomous Galicia region in the northwest of Spain and is somewhat related to Portuguese. In addition, we also have updates for the French, German, and Ukrainian languages. As always, we are open to more translators, and you'll get a nice spot on our credits if you complete a translation or contribute substantially to one.