Download it! Read on for what's new.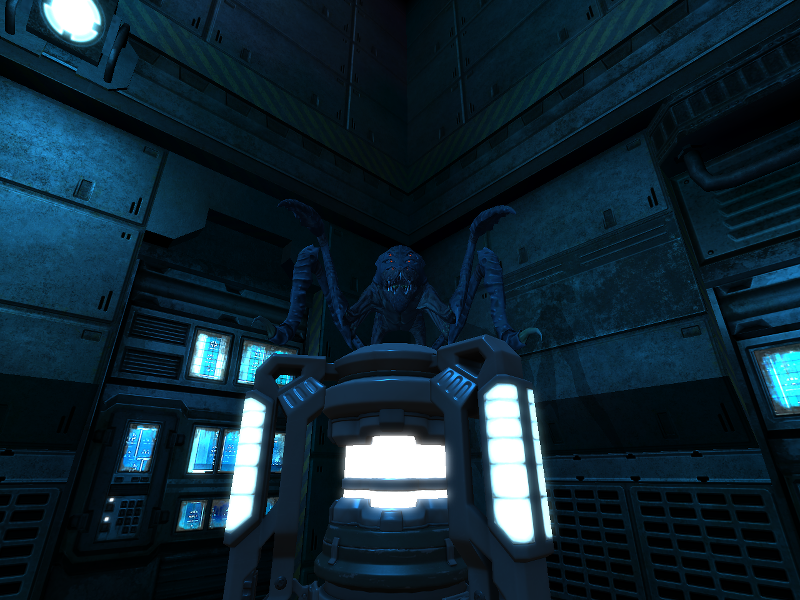 New marauder model!
We've brought in a new addition to the alien team this release, with a brand new marauder model. It is nicely detailed with glowing chameleon-esque eyes, sharp teeth, and small hooks on the end of its legs, ostensibly to aid in wall jumping. There are high-resolution textures for both the regular and advanced forms. Try it out! New first-person limbs will be available next release.
New reactor model!
As I've mentioned in the preview post last week, we now have a new model for the human team, the reactor. Much more detailed than its predecessor, the reactor's glowing, spinning arms pulsate to reassure you that your turrets are ready and primed to fend off alien attacks, likely from that new marauder. Available now in a human base near you!
New medistation model!
Surprise! We have yet another model for the human team this release, dug up from our pre-alpha vaults and touched up to fit in with our new buildings. The new medistation does away with the floating holographic plus sign that the old one had, instead replacing it with a pleasant pulsing glow to verify that it is in operation. Make sure to use it instead of feeding the alien team!
Updated human textures!
Once more we've updated the human textures, likely for the final time. They're in double the resolution, they've received gloss maps, and in general they look better than they did before with a more consistent color scheme and proper shading. Next month, they'll be updated for the first-person arms as we go about updating our weapons. We've also fixed the transparency issue on the armor, so you won't be able to see through it anymore.
Gloss map support!
In addition to our existing support for diffuse, specular, normal, and glow maps, we now have support for another kind of texture mapping, gloss maps. A gloss map defines the roughness of a surface, which is useful when a texture uses multiple materials. You can see them in action on the reactor, the turret, and the new human textures.
More renderer improvements!
Besides gloss maps, we have some other neat things. For one, we've drastically reduced the amount of memory used by Thunder, and the same fix should work on some of our other new maps, too! Some of the shadow weirdness should be fixed, and the player shadows are certainly in a presentable state, although we're still working on building shadows. Also, you should see performance improvements if you were using CPU rather than GPU vertex skinning, likely if you're using Mesa.